Aeroduct® Ducting Accessories
Aeroduct® Ducting Accessories Division is one of the six main business lines of Hira group, being specialized in the manufacturing of HVAC accessories. Aeroduct® products meets all applicable international testing standards. Aeroduct® product range consists of Flexible Duct Connectors, Insulation Fasteners, Flexible Ducts and Damper Accessories.
Aeroduct® products are accepted all over the Middle East region, Africa, Russia and USA. A strong network of offices and distributors in Middle East, Africa, SE Asia and Americas, make sure that the products are always accessible in stock and meet the top standards of quality.
Aeroduct® Flexible Duct Connector
All mechanical equipment like Air Handling Units, Fan Coil Units and Ventilation Fans generate noise and vibrations when used. To eliminate the noise and vibrations from transmitting through the air ducts, it is necessary to install an airtight flexible joint between the outlet of the equipment, and the inlet of the ducts. During manufacturing, the joint formed by attaching a layer of fabric to two strips of metal on either side is called a "Flexible Duct Connector". The most critical part of this Flexible Duct Connector is the fabric which has to be selected to suit the typical requirements of each installation.
Aeroduct® Insulated Flexible Duct Connector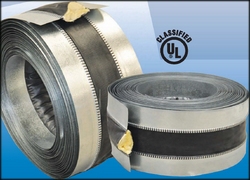 For acoustically treated ductwork and supply ducts, it is important that the fabric of the connector is also insulated in-addition to the insulation fixed on the ducting. This enables the flexible duct connector to achieve maximum effectiveness.
Externally, during manufacturing, insulating the fabric may damage the coating on it, and also make it stiff there by effecting the noise and vibration absorption properties of the fabric. Aeroduct® has a complete range of "Insulated Duct Connectors" which use a 25mm thick fiberglass insulation of R value 4.2, sandwiched between the 2 layers of fabric. The various options of fabrics offered in insulated models, ensure that the flexible duct connectors can be used for all possible types of ductwork installations.
Aeroduct® Insulation Fasteners (IF) – Perforated Base Hangers (PIF)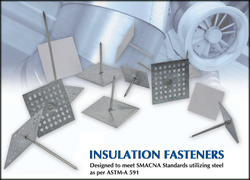 Aeroduct® Insulation Fasteners (IF) are an economical and effective solution for your insulation fastening needs. Aeroduct insulation fasteners are manufactured and designed to meet SMACNA Standards utilizing steel as per ASTM-A 591. It has a 28 Gauge Metal Base. with a size of 50mm x 50mm. Pins are 12 Gauge Zinc Plated and packaging is done with 500 pieces per box with SW washers.
Aeroduct® Flexible Ducts – UL181 Listed Insulated and Uninsulated Flexible Duct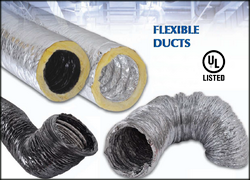 Aeroduct® Flexible Duct is a tough, completely flexible and low weight duct which is extensively employed in ventilation and air conditioning structure for residential, commercial and industrial applications. Our manufactured ducts shows great efficiency when installed correctly and is a perfect option for all air ventilation systems including homes, hotels, offices and commercial buildings since it is very suitable for connecting supply air outlets to rigid ductwork. Aeroduct® flexible ducts are available in insulated and un-insulated models and comply with UL 181 listed.
Aeroduct® Stranglehold Banding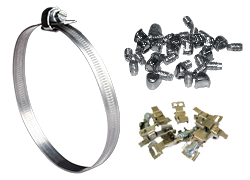 Aeroduct® Stranglehold Banding is available in zinc protected mild steel and stainless steel. This is most popular clip in our range. Ideally suited for most day requirements for joining hose in areas such as the HUAL industry and the automotive aftermarket, agricultural application, such as irrigation and farm machinery, pneumatic and hydraulic application in the industrial sector, hardware/DIY applications and in construction.
Aeroduct® Automatic Fire Curtains
Aeroduct® Automatic Fire Curtains are physical barriers against the passage of fire remaining invisible while in their retracted position in the headbox. Automatic Fire Curtains are life safety systems that are designed to arrest the spread of fire in a building. The assembly comprises of a fire-resistant fiberglass fabric wound around a roller which is encased in a compact headbox that is typically installed above the ceiling to be invisible until activated. The curtain descends at a controlled speed upon receipt of the signal from a fire alarm and provides resistance for up to 240 minutes.