Aerofoam® Roofing Profiles are designed to seal roofing and cladding profiles against dust, water, and water vapor. Featuring very good mechanical resistance and durability, the roof sealing profiles are able to retain their flexible internal structure.
PRODUCT
Material: chemically cross linked polyolefin foam
Density: 25 kg/m³
Thickness: 25 mm
Width: 50 mm/ 70 mm
Length: 400 mm/ 900 mm
Color: Gray / black / white.
Delivered parts ready for installation with precise cut geometry.
APPLICATIONS
Any type of roof in need of a closure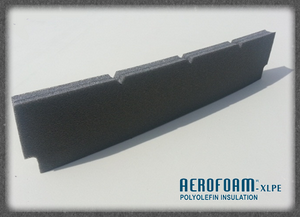 FEATURES
Built-in water vapor barrier – watertight
Antibacterial and antifungal
Very good mechanical resistance – high tear/ break resistance
High thermal performance
Odor-less, non-fogging
Very good restoring properties
Economical and easy to install.
BENEFITS
Seamless fit and look/feel with existing roofing colour and geometry
Low cost and time saving
Light and easy to handle
Robust and easy to transport
Custom order options
Support for the lifetime of product.