Aerofoam® XLPE Insulation Tubes are manufactured in India from closed cell cross linked polyolefin foam. Featuring excellent condensation control, long term thermal blocking and sound absorption properties, the polyethylene heat insulation tubes are available in a range of thicknesses and diameters for use with standard pipe sizes up to 40". The tubes can be coated with foil or can be purchased without a coating.
The Aerofoam® XLPE polyethylene tubes offer very good dimensional stability, exhibiting a "memory effect" which enable them to retain their original shape after being compressed.
The tubes do not present a human health hazard with a production process that is free of CFC and HCFC, resulting in very low VOC levels. The product is considered environmentally friendly with low Ozone Depletion Potential (ODP) and Global Warming Potential (GWP) and complies with LEED requirements which aid buildings in accumulating more LEED points.
For more information please download the Aerofoam® XLPE Insulation Tubes catalogue below.
PRODUCT
Material: Closed cell cross linked polyolefin (Polyethylene) foam with alupet foil
Density: 25 kg/m³ (foam core only)
Thickness: 5 mm, 10 mm, 12 mm, 15 mm, 20 mm, 25 mm, 30 mm, 40 mm, 50 mm
Diameter: ½'' – 40''
Length: 1 m, 1.2 m, 1.5 m
Color: Grey with silver foil
APPLICATIONS
For professional installation instructions for Aerofoam® XLPE Polyethylene Tubes, please consult the Installation Handbook.
PROPERTIES
Fire rated "CLASS O" as per BS 476 Parts 6 & 7;
Very low water vapor permeance (0 perms);
Water tight due to the preapplied alupet foil;
Very low water absorption rate (0.3% by volume);
High thermal efficiency (λ24 ˚C = 0.035 W/mK;λ46 ˚C = 0.037 W/mK);
Wide temperature range (from -50 ˚C to +105 ˚C);
Chemical resistance to most chemicals like sodium, silica, fluoride, chloride, etc.
Antibacterial & anti fungal;
Environmental friendly – ODP = 0 and GWP < 5;
Very low VOC emission level ( < 4 µg/m²/hr in 24 hours);
Good mechanical resistance;
Sound absorption properties;
Perfect fit to most of the pipe sizes;
Easy and fast to install;zz
Aesthetical look.
To receive a copy of the specific test report please contact us at enquiry@aerofoam.ae
TEST REPORTS
SIZE CHART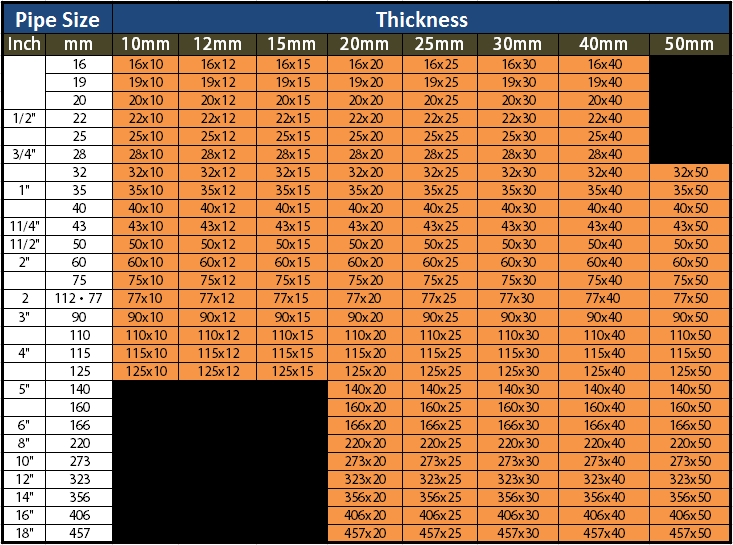 Pipe section length: < 6″: 1.5 meters; 6″: 1 meter; > 6″: 1.2 meters
Tolerance: Thickness: ±1 – 1.5 mm; Length: ± 1-1.5 cm
Tubes without foil and diameters up to 40″ are also available upon special request.