AeroSound SF & ESF– Acoustic Underlay
AeroSound SF (silent floor) underlay is a cross linked closed cell polyolefin foam and ESF is flexible elastomeric rubber foam with medium density underlay for all floating floor applications.
AeroSound SF and ESF underlay is designed to reduce impact of sound in floating floor systems, it is designed to use in both commercial and residential buildings, such as apartments, hotels, hospitals, schools and universities to reduce the sound transmission level to below levels. Usual application is to separate concrete base floor from final screed or screed from final finishing, used in corners (between wall and floor) for the same purpose.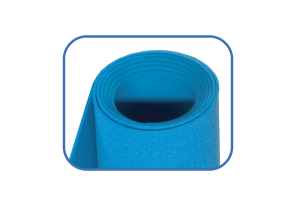 The AeroSound SF and ESF – Acoustic Floor Underlay is an acoustic insulation solution for various applications, bringing more acoustic comfort, designed to avoid structural noise, such as noise caused due to walking, jumping, bouncing or pulling.
For more information, please download the Acoustic Floor Underlay catalogue below.
Aersound SF  
Material: Chemically cross linked closed cell polyethylene
Density: 30 kg/m³ ± 2
Thickness: 3 mm / 5 mm / 8 mm / 10 mm / 12 mm / 15 mm
Width:  1.2 m
Length: 10 – 20 m (depends on foam thickness)
Color: Blue / Grey
*Other thicknesses available upon request.
Aersound ESF
Material: Closed cell flexible elastomeric foam
Density: =>70 kg/m³ ± 2
Thickness: 6 mm / 10 mm / 19 mm / 25 mm
Width:  1 m
Length: 6 – 20 m (depends on foam thickness)
Color: Black
*Other thicknesses available upon request.
Application
AeroSound SF and ESF acoustic floor underlay can be used in various applications for example,
Layer between screed and construction slab.

Underlay for carpets, timber wood and stone finishing.
FEATURES
Reduces the sound transmission to the lower levels and construction of the building.
Reduce structural noise and vibrations.
Durable – tear and compression resistance.
Cross linked closed cell structure makes it water and moisture resistant, no additional barrier or treatment needed.
Chemical resistance – resistant to most chemicals and acids.
Excellent resistance for fungus, moulds and bacteria, suitable for medical facilities.
Inbuilt water vapor barrier.
BENEFITS
Protects your health – non-toxic, non-allergen, mold and fungi resistant.
Water and moisture resistant.
Odorless.
Light and easy to handle and install.
Robust and easy to transport.
Non-collapsing structure.
Required

Accessories:

:
Any Aerofoam Tape (Alupet, Alminium, PE, PVC etc)
GALLERY