Residential and commercial structures should consider sound reduction technologies during the design and construction stages. They are essential for any house or office facility that wants to maintain a calm, quiet, and tranquil atmosphere. Recycled rubber acoustic floor underlays, when properly selected and installed, are one of the most effective and cost-efficient ways to improve the overall indoor living environment by preventing noise intrusion from neighbors and in between floors.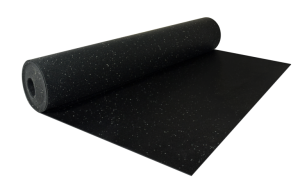 AeroSound® RSF Rubber Silent Floor is designed to reduce impact sound in flooring systems and to increase the acoustic comfort. The rubber structure provides good acoustic and mechanical performance, and it is manufactured using recycled rubber particles.
The AeroSound® RSF is an acoustic floor underlay that reduces structural vibration and noise transmission within the building. It can also be used to separate building structure elements such as pre-cast stairs, elevator shafts from the staircase, and the structural slab from the stairs. AeroSound® RSF is suitable for civil and industrial applications.
BENEFITS
Reduces transmission of impact sound
Helps to protect screed from cracking
Provides support for floor finishing
Adds softness to the flooring
Environmentally friendly
Long lifespan
FEATURES
Excellent acoustic properties
Excellent thermal properties
High mechanical strength
Does not absorb water
Fiber and dust free
Resistant to bacteria, mold, and fungi growth
APPLICATIONS
Gyms, clubs and dancing floors
Hotels, offices and medical facilities
Recording studios and movie theaters
Industrial buildings and machinery foundation
Automotive industry – wheel arch and chassis
Residential, commercial, and high-rise buildings
ACCESSORIES
AeroSound®

 

Perimetric Tape
Duct Tape
Foil
Adhesive (optional)
GALLERY