AeroSound LX, LN – Acoustic Duct Liners
Aerosound LX is a flexible cross linked semi open cell polyolefin foam with or without pressure sensitive adhesive on one side. Aerosound Duct Liner is designed to reduce the sound pressure level inside air ducts, but it can be successfully used in operating cabins, silencers, decompression boxes and all kind of casing. Aerosound acoustic duct liner is free of harmful irritants making it safe to handle and install. Aerosound Acoustic duct liner is a highly hygienic product which doesn't let molds or fungi to grow, it has excellent sound absorption properties with extremely long technical life, resistant for all kinds of maintenance including cleaning process, resistant to water, steam, soaps, detergents and all kinds of cleaning chemicals.
Aerosound LN Acoustic Liner is flexible elastomeric foam, Aerosound LN has a semi open cell structure which is suitable for thermal insulation and sound absorption, mainly inside the ducts due to the high chemical and biological resistance, product has a long technical life.
Thickness (15mm, 25mm) + Size (1,2x20m & 1.2 x 2.4m)
*Both products are available as Self-Adhesive.
*Other thickness are available upon request.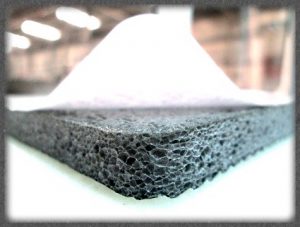 APPLICATIONS
The acoustic insulation can be used as a duct liner inside any air duct, water pipe line or tank.
PROPERTIES
Sound absorption – semi – open cell structure allows for effective absorption of air-borne sound across a broad frequency range
Sound transmission loss – high air flow resistance offers beneficial sound transmission loss properties
Vibration damping – dampen or deaden resonance effects in metal panel work; no "re-radiation" effects
Can be supplied with pressure sensitive adhesive backing for ease of installation.
CASE STUDY
AeroSound Acoustic Solutions assisted a fitness center by providing solutions for dampening sound propagation. We were able to successfully eliminate any kind of discomfort and deliver a realistic solution for optimum efficiency. Here is the link for the case study: Fitness Center.
Gallery