Aerofoam® XLPE acoustic insulation material is a versatile sound absorber designed for use in a variety of acoustic applications.  Made of cross linked semi open cell polyethylene foam, Aerofoam® XLPE acoustic insulation offers substantial transmission loss performance along with vibration damping and insulation properties.  The product delivers excellent performance at low thicknesses.
Download Catalog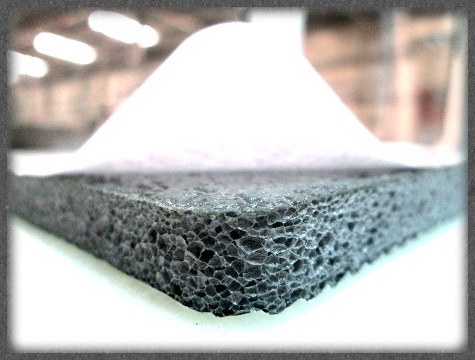 PRODUCT
Material:     Chemically cross linked polyethylene foam
Density:       25 kg/m³ (foam core only)
Thickness:   5 mm / 10 mm / 12 mm / 15 mm / 20 mm
Width:          1 m – 1.2 m
Length:        20 m
Color:           Grey
Burning:      NFR / FR (Classification)
APPLICATIONS
The XLPE acoustic sound insulation can be used as a liner inside any air duct, water pipe line or tank.
PROPERTIES
Sound absorption – open cell structure allows for effective absorption of air-borne sound across a broad frequency range.
Sound transmission loss – high air flow resistance offers beneficial sound transmission loss properties.
Vibration damping – dampen or deaden resonance effects in metal panel work; no "re-radiation" effects.
Adhesive backing – can be supplied with pressure sensitive backing for ease of installation

Benefits