Aerofoam® Horse Mats are constructed from closed cell polyethylene foam panels.  The polyethylene mats are suitable for all stall types and ensure a very comfortable and stable environment for horses when moving.
PRODUCT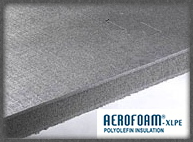 Material:              chemically cross linked polyethylene
Density:               25 kg/m³ (foam core only)
Thickness:           40 mm
Width:                 1230 mm
Length:               1800 mm
Color:                  grey / black
BENEFITS
PVC free material: non-toxic, non-allergen, mould resistant  and environmental friendly
Excellent thermal performance even when completely covered by manure
No need for disinfecting
Light weight – easy installing and handling
Note: use of Aerofoam® Horse Mats does not exempt purchasers from adhering to current hygiene and veterinary rules
For more information please download the catalogue here.