Aerofoam® Expansion Joint Filler is a very strong and resilient polyolefin product with concrete adhesion levels that are well suited to a variety of customer application needs.
PRODUCT
Material: Chemically cross linked polyolefin foam
Density: 25kg/m³
Thickness: 3mm to 60mm*
Width: 50mm – 300mm*
Length: 20m – 25m*
Color: Gray/ Black.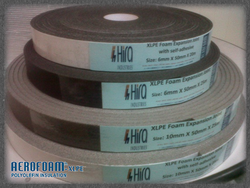 For more information, please download the Expansion Joint Filler catalogue below.
APPLICATIONS
Our product expansion joint filler can be used in:
Bridges, highways, runways, subways, parking garages, driveways, sidewalks
Basement structures, retaining walls, deck/floor slabs, brick and blockwork
Sewage treatment works, water channels, and culverts, reservoirs
A buffer between dissimilar materials: columns, manhole covers, and adjacent constructions.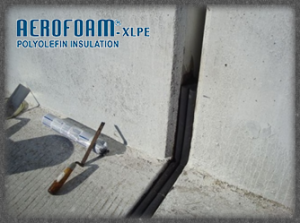 FEATURES
Fire Resistant – made with fire retardant additives
Superior compression and recovery properties
Durability – cross-linked feature makes it water and moisture resistant
Chemical resistance – resistant to most chemicals and acids
Can be supplied with pressure-sensitive adhesive backing for ease of installation
Excellent weather ability.
BENEFITS
Rolls available in a wide range of widths and thicknesses
Non-toxic, non-irritant, requiring no gloves or special handling equipment
No fibers and dust as a result of the use
Light, simple to handle and easily transportable
Economical and easy to install.