PRODUCT DESCRIPTION
AeroReflect Foam Insulation for roofs and walls is a closed-cell, cross-linked foam core encapsulated between extra heavy-duty reflective reinforced aluminum foil laminates. Foam core is a high-quality foam product suitable for use in roofs and walls. It reduces up to 95% of the sun's radiant heat, minimizes the risk of condensation and acts as effective water and vapor barrier when installed correctly.
Foam core multipurpose incorporates a 150mm overlap along one side edge to maximize coverage, minimize wastage and allow sealed edge protection to improve aesthetics in exposed applications. An anti-glare coating is applied to one side of the product to reduce the level of glare experienced during installation.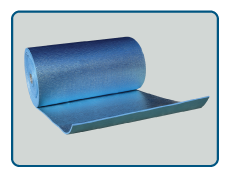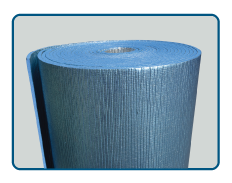 Product Construction
AeroReflect Foam Insulation is made with aluminum foil laminated with reflectivity of 95% and emissivity of 0.05 and emissivity of 0.03 to the other, which complies with ASTM Standard E 408. A core is made of 8, 7, 6.5 & 4 mm of chemically cross-linked, closed-cell XLPE polyolefin foam.
Aerofoam® uses Advanced Laminating Technology for the polymer adhesive and it remains tacky for an indefinite period. It provides superior resistance to heat, fire, and delamination.
Highly effective in dampening noise
Fiber-free and non-allergenic
Water-resistant, fire-resistant
Corrosion-resistant.
Physical Specifications

Compliance
All the requirements of the National Construction Code and Building Code of Australia for insulation and pliable building membranes are met by AeroReflect Foam Insulation since it complies with AS/NZS 4859.1:2002/Amdt 1:2006 and AS/NZS 4200.1:1994.
Storage
This product should be stored upright and undercover in a clean, dry place in the pack provided.
Product Specification
The insulation to be installed shall be AeroReflect Foam Insulation double-sided reflective, fiber-free thermo reflective insulation, comprised of cross-linked, closed-cell core XLPE foam with an anti-glare foil facing on one side and plain foil facing on the other side, thermal resistance R0.2 and 150mm overlap piece included. 
Emittance Bright Side: 0.03, Anti-glare Side: 0.05
Vapor Barrier Classification: Medium
Water Barrier Classification: High
Duty: Extra Heavy in accordance with AS/NZS 4200.1:1994
Corrosion resistance: AS/NZS 4859.1:2002 passed.
Health and Safety
AeroReflect Foam Insulation is assessed. As a result of the assessment, this product is classified as non-hazardous. To reduce the risk of UV damage when installing this product, wear protective clothing, safety glasses, and sunscreen, and work in the shade wherever practical.
| | | | | |
| --- | --- | --- | --- | --- |
| Nominal thickness | Width | Overlap/ Flap | Length | Area per roll |
| mm | mm | mm | mm | m2 |
| 8 | 1350 | 150 | 22.25 | 30 |
| 7 | 1350 | 150 | 22.25 | 30 |
| 6.5 | 1350 | 150 | 22.25 | 30 |
| 4 | 1500 | — | 20/6.67 | 30/10 |